Considering the Creality Ender 3 (Pro/V2) 3d printer hot end upgrade or replacement? Check out the best options currently available.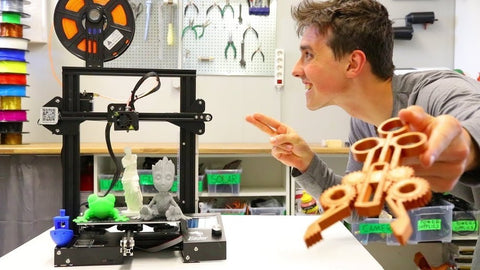 Creality has been busy. In a relatively short amount of time, they've produced some of the best, affordable 3D printers. The Ender 3 is this year's best FDM printer under $200, while the Ender 3 V2 ranks as best under $300. The Ender 3 Pro continues to be a strong machine for its price despite the bold marketing decision to include "Pro" in its name.
With the Ender 3 series as well as its other lines, Creality has taken the 3D printing community by storm by supplying it with cheap, reliable machines. Part of the reason they're able to produce reliable printers for such reasonable prices is that they tend to use simplistic designs across a range of machines that use some of the same components. The hot end assembly is one such component.
What the Stock Option Offers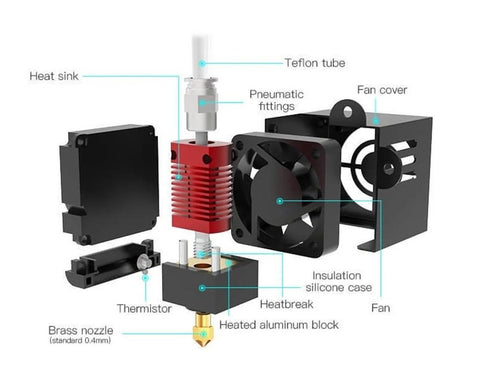 The standard Creality hot end is simple and, for most tasks, capable. However, especially when printing with specialty filaments that require more consistent or higher temperatures, this generic stock hot end can be a pain.
Let's first take an in-depth look at the hot end on the Ender 3s, then consider three alternative hot ends that would make excellent upgrades. And the good news is, all three are compatible with the Ender 3 as well as the Pro and V2 models.
The default Ender 3 hot end is very simple. A Teflon (PTFE) tube meets a metal heatbreak in the center of a metal heat sink. This construction screws together with an aluminum heater block and brass (or alternative material of choice) nozzle. Let's take a look at the specs of this hot end as well as some of its pros and cons.
SPECS
Max temperature: 260 °C
Filament size: 1.75 mm
Price: ~$20
PROS
Cheap
Easy to replace and install
Teflon tube resists clogging
CONS
Low maximum temperature
Non-metal components require more frequent maintenance
Loose connections between components can easily cause leakage and clogs
In order to find a true upgrade to this default hot end, you need to find one that solves the problems demonstrated by the above cons. Therefore, better hot ends will have higher maximum temperatures, require less maintenance, and be engineered so that loose connections are fewer.
That said, if you plan on printing with materials that require printing temperatures higher than 260 °C, you'll need to edit the temperature restrictions in your Ender 3's firmware as well as upgrade the thermistor.
E3D V6 All-Metal Hot End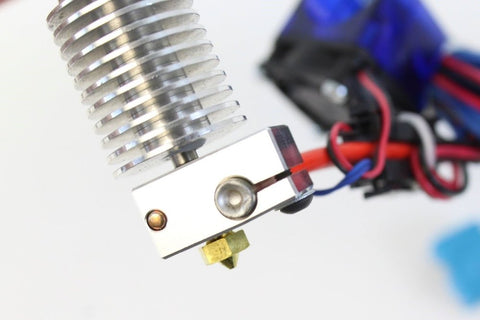 E3D is one of the most popular 3D printing companies, and this is with good reason. This British company strives to create top-notch, super reliable 3D printing parts that have become the standard on many machines.
But is the E3D V6 All-Metal Hot End a true upgrade to the default Ender 3 hot end? You bet it is.
Higher Maximum Temperature?
Yes! The V6 can comfortably reach 285 °C with the provided thermistor. However, as the engineers at E3D explain, "by swapping a thermistor for a thermocouple (which may require additional electronics) or a PT100 temperature sensor, you can reach over 400 °C."
This opens the door to a wider range of materials, including polycarbonate, nylon, and even PEEK. If you plan on printing materials at temperatures higher than 260 °C, prepare to edit your printer's firmware to raise the max temp safety feature.
Less Maintenance?
Yes! This is an all-metal hot end, and the PTFE tube that leads the filament is distanced from the heater block by a stainless steel heatbreak. This eliminates PTFE degradation and the need to replace hot end components.
Anti-leak and Anti-clog?
Maybe. In the absence of a PTFE tube, the heatbreak conducts heat much faster, so the filament is subject to a significant difference in temperature. In the scenario that heat creeps from the heatbreak to the heat sink (which is actively cooled with a fan), the filament can melt and then solidify on the walls of the heatbreak. This will indubitably result in a clog. However, by making sure that the heat sink is sufficiently cooled, you can combat and avoid hot end clogging.
Verdict
Overall, the E3D V6 All-Metal Hot End is a fantastic choice for an Ender 3 hot end replacement. It's durable, reliable, and a joy to use. Tutorials and 3D printable mount files for installing the E3D V6 are readily available to help you out.
3dprinteraccessories.shop a one-stop 3d printer parts and accessories online shop with thousands of SKU, quality, and professional parts; we would love to provide fast delivery, affordable price, and best service to all customers.